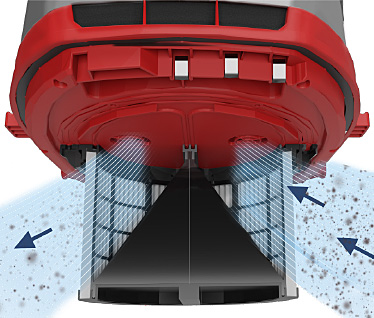 Patented filter cleaning.
Dealing with hazardous dusts requires innovative product developments. The heart of the CraftiX is the patented HEPA 13 cartridge filter. It consists of two independent filter chambers, which are cleaned one after the other. Suction current and suction power thus remain at a consistently high level even during cleaning, which guarantees permanent suction.
Filter cleaning is carried out by air backwashing and, thanks to the patented cartridge filter, ensures that the fine pores of the filter are freed from dust without leaving any residue. The maintenance and cleaning of the filter is no longer necessary and you save time and money.
Filter cleaning takes place automatically every 45 seconds. It is quieter than average and is therefore particularly user-friendly.